Accept Payments Online with Clover Virtual Terminal
A virtual terminal enables you to key in and process credit card transactions using a computer, iPhone, BlackBerry or any type of internet enabled computing device.
It is a secure web page that you log into using a standard web browser (such as Internet Explorer or Firefox). From within your control panel you simply key in and process orders. The virtual terminal is extremely easy to use and highly secure.
Run your business from virtually anywhere
Accept credit and debit card payments directly on a computer, tablet, or smartphone
Take care of all incoming payments: in-store orders, mail orders, or invoices
Send digital receipts via email or text
Collect contact information to engage with your customers and keep them in the know about your business
Protect against fraud with address verification service (AVS) and card code verification (CCV)
KEY FEATURES:
Authorizations – apply a hold on a credit card
Verification – verify a card is valid and match CVV
Email e-invoices with payment link to customers
Include Tips and Taxes
Card on File – securely save cardholder data for future use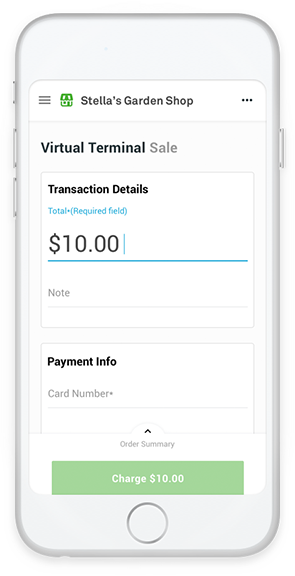 Convenient
Take payments even when you're away from your Clover device.

Safe & secure
Keep all your tractions PCI compliant, and secure with end-to-end encryption.

Worry-free
No additional monthly fees, with transactions charged at the keyed-in rate.